Whilst surveying this 200+ year old floor at a cottage in Bideford the owners told me that they were quite set on pulling up their original Slate flagstone floor and replacing with new stone, but they wanted to make sure they had explored every option before making that decision.
The floor, which is around 45m2, had previously been covered in old underlay and carpet for some time. There were damp issues, some relatively significant shale in areas where the moisture had sat and enough paint stains on the floor to give the walls another coat 😊
I reassured them that the floor had plenty of life left and could be rescued, and once done it would be a real feature of the property that matched its age. Removing and replacing at huge cost would not be necessary. They accepted my quote and we set a date for the work to start.
Resurfacing and Cleaning a 200-Year-Old Slate Flagstone Floor
Day 1 started with resurfacing the old Slate flags using a coarse 50-grit diamond pads which was fitted to a weighted rotary floor machine. These pads cut back the old, tired surface of the stone and reveal a new untainted surface removing the shaling stone and paint marks stains,
This process also opens the pores in the stone allow the long-standing moisture to finally evaporate overnight. Although the machine does most of the hard work its meticulous work and requires rinsing and extracting to remove the soiling.
It's slow meticulous work and once the whole floor had been completed, I moved on to a 100-grit and then a 200-grit pad to slowly close the pores in the stone and restore the appearance of the Slate.
To fully restore the appearance of the Slate I then applied a finer 400-grit diamond burnishing pad which removed the remaining scratches and swirl marks. At the end of day 3 I knocked out a few troublesome joints and re-pointed these areas with a German Resin based jointing mortar called VDW800.
Sealing Old Slate Flagstones
By day 5 the Slate floor was ready to be sealed for which I applied two coats of Tile Doctor X-Tra Seal which is a premium oil-based product that works well on old stone floors like this one.
The natural stone colours and mineral patterns soon began to pop out again leaving a stunning and freshly restored Slate flagstone floor. The owners were over the moon with the results. They had not only saved the largest internal original feature in the cottage but had also saved money as well. A great result.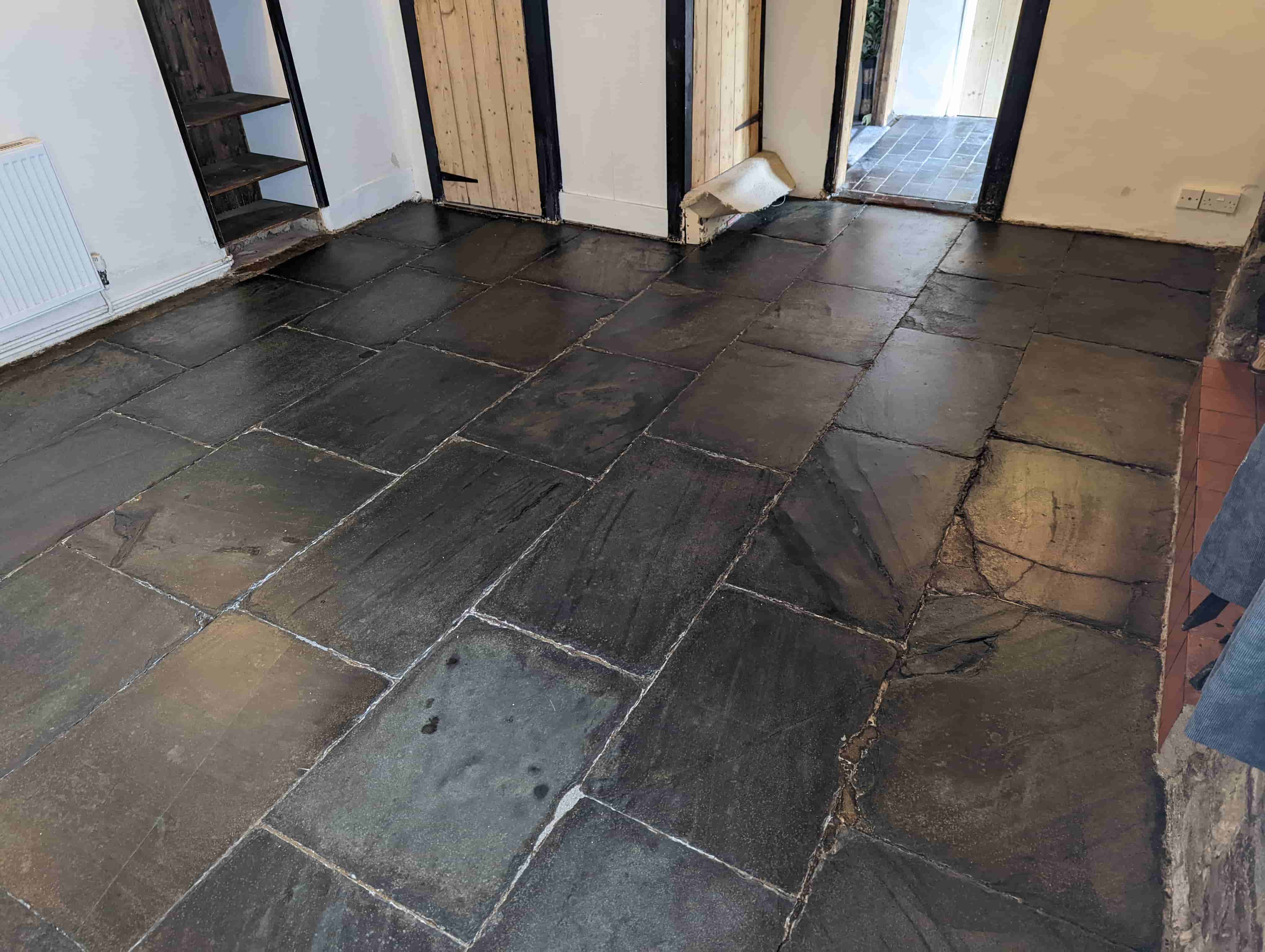 For aftercare I recommended the use of Tile Doctor Neutral Tile Cleaner which is a mild pH neutral tile cleaning product that will ensure the integrity of the newly applied seal and will keep the floor looking in this great condition for years to come.
Professional Restoration of a Slate Flagstone Tiled Ground Floor in Devon