Terracotta, terra cotta or terra-cotta meaning baked earth is a clay based tile which can be glazed or unglazed and were traditionally hand-made. Because of the material used to produce the tiles they are very porous and the firing process creates a lot of variation of colour not just between each tile but within each individual tile. The two main types of terracotta tile are Spanish and Mexican, or Saltillo, and have different colour variations and characteristics but are essentially treated in the same way. There are even some manufacturers that offer paw prints in tiles, although they cost extra!
Of course, Terracotta is also commonly used as a material for tiled floors due to the warming and homely characteristics of the stone, associated with old country living. Indeed, a Terracotta tiled floor can be an asset to any home, but only if it is routinely maintained.
I recently visited a property in Lympstone, a small picturesque harbour village in East Devon in the area of Woodbury, to tend to a lovely Terracotta tiled floor that had been installed in an open-plan kitchen/diner. The tiles had gotten very dirty over its fifteen-year life and the current owners were struggling to clean it and had spent a long time scrubbing the floor with very little reward.
Once on-site I conducted a small test clean on the floor which was very successful and gave the customers confidence in going forward. Happy to give me the work we agreed a date and I came back a few weeks later.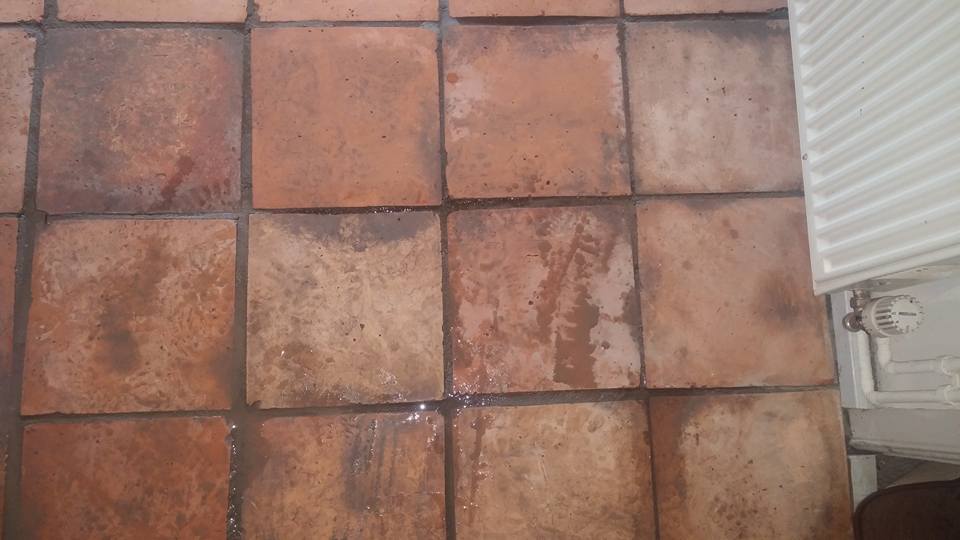 Deep Cleaning Terracotta Tiles
Because of the undulation and texture in the tiles, the floor was treated using Tile Doctor's Oxy-Gel, a powerful and fast-acting alkaline stripper/degreaser which is ideal for use on vertical surface and uneven tiles such as terracotta because the gel doesn't run off the higher areas and pool in the lower areas. The product also has a short dwell time which enabled the entire floor to be cleaned in a day.
The Oxy Gel was scrubbed into the tile and grout with the aid of a stiff bristled monster brush fitter to rotary scrubbing machine. Once the cleaning process had been completed, I extracted the dirty cleaning solution using a wet vacuum and then re-treated any stubborn areas.
Following the cleaning the whole floor was given a thorough rinse to remove any trace of cleaning product. This required a lot more water and brushing than usual because of the tiles acting more like a sponge because they weren't sealed. Again, a wet vacuum was used to extract the water and get the floor as dry as possible.
Sealing Terracotta Tiles
Because Terracotta is a very porous tile I left the floor for five days to ensure it would be dry enough when I returned to seal it. Tiles need to be dry before sealing as any excess moisture and damp issues can upset the performance of the sealer.
I tested the floor for dampness on my return and found it had dried well and was ready to be sealed. This allowed me to proceed with sealing the tiles using Tile Doctor Seal and Go, which is an acrylic, topical sealer. It provides a both a stain resistant surface seal and a durable low-sheen satin finish.
Being the product is water-based there no smell is given off by the sealer as it dries, and since the Terracotta is very porous I ended up using nine coats of sealer which is not uncommon on this type of tile. Once fully sealed the floor will not absorb water and so is easier to clean and much more resistant to staining.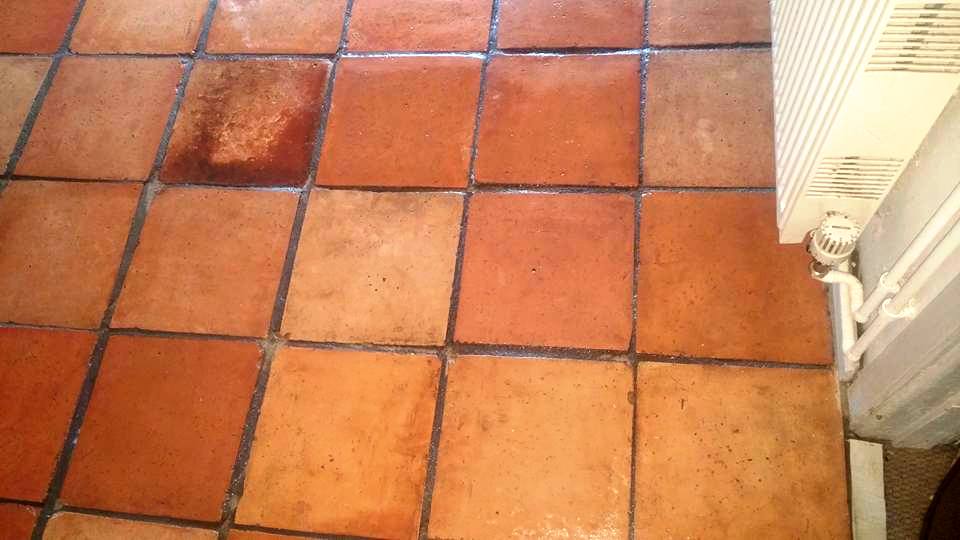 As you can see from the above photo, the condition of the floor was massively improved. What was a very dull and stained Terracotta floor is now colourful and clean. Certainly, the customer was really pleased with the outcome and left the following feedback:
"Stuart was punctual to the minute and thoroughly friendly and professional at all times.
We are very pleased with the floor and highly recommend him. Ryan S."
Professional Cleaning and Sealing of a Dirty Terracotta Tiled Floor in Devon
Terracotta Tiled Floor Transformed with a Deep Clean and Seal in Lympstone